If you are getting DirectX error in Company of Heroes 3, the game will either fail to launch or it will simply crash during gameplay. The DirectX error in Company of Heroes 3 occurs if you happen to be running an outdated version of DirectX on your system. Also, some DirectX files may become corrupt after applying routine Windows updates and that is why your system is likely to act up after major updates.
In simple terms, DirectX is a collection of files required for making sure that multimedia applications run smoothly (especially games).
To fix the issue of Company of Heroes DirectX error, here are a few things you are going to give a try while going through this article:
Upgrade to the latest version of DirectX from Microsoft Store. Don't forget to check out the video (link below) on how you can download the DirectX Runtime Library files from Microsoft Store.
Upgrade the graphics card driver to the latest stable version.
Reinstall Company of Heroes 3 to replace corrupt files and restore any missing files.
Run Company of Heroes 3 in Lowest Possible Graphics Settings to Fix DirectX Error 
You didn't invest all that money in your system just so you could play games in the lowest graphics settings, did you? By running Company of Heroes 3 in basic graphics settings, you are only making sure that it's not a failing graphics card that is exhibiting its brittleness in the form of DirectX error. Most of the failing graphics card will give you DirectX error so we are just making sure that your graphics card is working fine by running the game in lowest presets.
More ways to fix Company of Heroes DirectX error here!
Install DirectX Runtime Library and Gaming Services from Microsoft Store
Of all the fixes mentioned in this guide to fix DirectX error with Company of Heroes 3, players have reported that adding DirectX Runtime Library and Gaming Services to the download queue of Microsoft Store is likely to put things back on track.
If your Microsoft Store apps and services are all up to date and these two items are nowhere to be seen in the download list, you should go ahead and install Xbox Game Pass for PC, and doing so will automatically push these services for an update.
To learn more, check out this video showing you the steps for fixing Dev Error 6068 in Call of Duty Modern Warfare.
Closing Background Applications to Fix Company of Heroes DirectX Error 
While it's true that closing background applications will help to improve the game's performance, it's also worth noting that certain background processes will interfere with the stability of some other process/application and that is why you end up encountering random DirectX error in games like Company of Heroes 3.
Closing unnecessary background programs will help improve your game's performance significantly, especially if those processes were chugging on your system's resources (primarily RAM). It's better to close off all programs and services that are not required during gaming to ensure optimal performance as well as to avoid any random issues.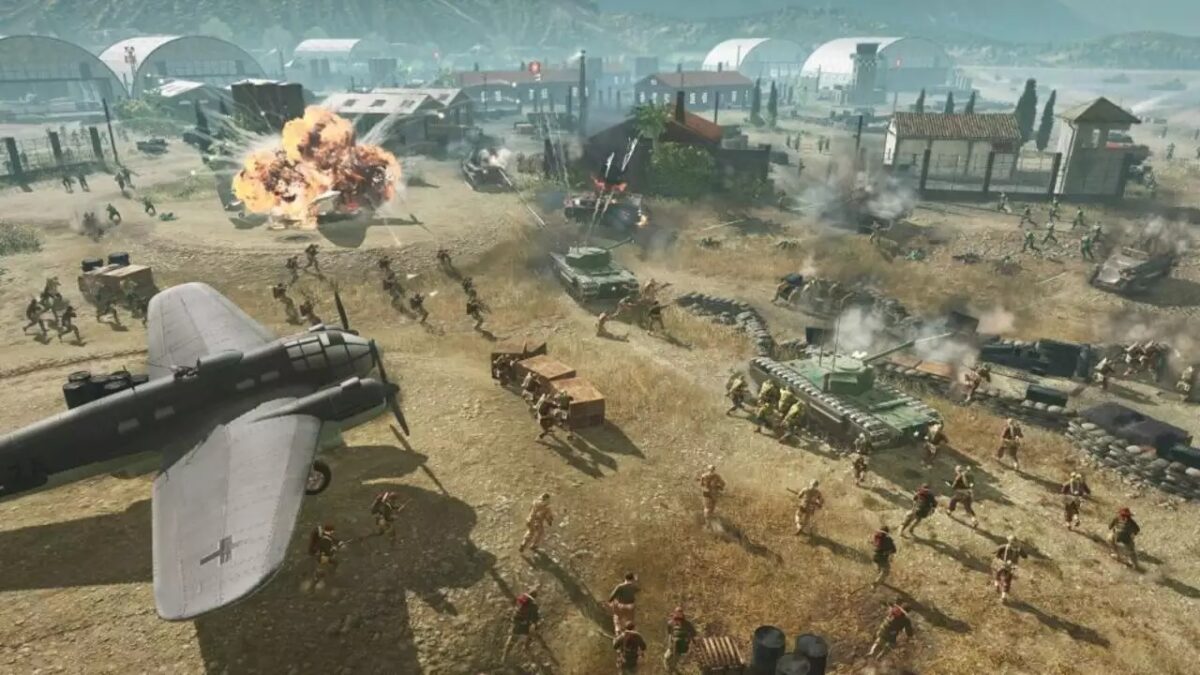 MSI Afterburner is one such application that causes certain games to stumble upon DirectX error. Therefore, disable all unnecessary background processes before launching Company of Heroes 3 and see if the DirectX error persists.
Fix Company of Heroes DirectX Error: Verifying Integrity of Game Files
Verifying the integrity of game files can help repair the corrupt ones while also replacing broken files. After integrity verification, issues like FPS drops, which may have occurred due to corrupt game files, will stand fixed. It is crucial to bear in mind that game files can become corrupt due to a number of reasons including
incomplete downloads
file system errors
interference from a malicious software
If there are any glitches with the installation of Company of Heroes 3 on your system, those shall be detected via the built-in verification tool in Steam. Here's how you can verify the integrity of files for games installed via the Steam client:
Launch Steam and locate Company of Heroes 3 in your Library.
Right-click on the item, select 'Properties', and switch to the Local Files tab.
Wait for the process to be complete after choosing 'Verify integrity of game files…'
Relaunch Company of Heroes 3 and the game should now run without any sort of DirectX-related error.
Read Next: Quick Fixes for Your PS5 Keeps Turning Off During Gameplay
Leave a comment