Facing the issue of Fortnite update stuck Nintendo Switch? Read this guide and know about the possible workarounds for when that happens.
Fortnite, which is one of the most popular battle royale games, boasts a large user base, with thousands of avid gamers indulging in gameplay every month. Fortnite's network performance on Nintendo Switch is usually quite consistent but a small fraction of users have expressed concerns regarding the update process, citing issues such as the update process being stuck or not starting altogether.
Why Fortnite Update May Get Stuck in Nintendo Switch?
While the list of potential factors causing Fortnite to not update in Nintendo Switch can be quite long, the two most common reasons resulting in this setback are
A not-so-good internet connection
A faulty storage unit on your console.
While not that common, system software issues in Nintendo Switch may render certain apps and games incapable of fetching updates. Regardless of what may be the reason for Fortnite not updating on your console, a comprehensive list of potential solutions is now at your disposal right here at gamingmet.
Find more game update-related guides on gamingmet! Apex Legends Update Stuck Preparing Status: Fix it Now!
Checking the Internet Connection
Verifying that your Nintendo Switch is connected to the internet is the initial step in this investigation, irrespective of whether the console is using WiFi or Mobile Data. At times, a wireless connection may succumb to instability (thanks to interference) resulting in connection dropouts and hence update failure.
In that case, we recommend performing a network speed test on your console to find out if the download figure is up to par. Here are the steps involved:
Head to 'System Settings' from your console's Home Screen.
Find the option that says 'Internet' (you will need to scroll down) and initiate network diagnostics by choosing 'Test Connection'.
The console will now run a complete network diagnostic after which you will note the download speed when the results are out on your screen.
Your network's download speed should surpass the 5 Mbps threshold to ensure that you don't face any issues while playing Fortnite multiplayer matches. Any download speed below this threshold can lead to a noticeable impact on game performance and update delays.
If it's that you are not getting the download speed mentioned on your ISP's brochure, consider investigating if other devices in your network are sucking up on all bandwidth leaving your Switch with a poor connection.
More often than not, devices streaming high-definition content can have a significant impact on your network's performance so it's better to temporarily delink those devices from the router while fetching updates for Fortnite.
Check Fortnite Server Status if Update Stuck in Nintendo Switch
During server maintenance, you may not be able to download updates for Fortnite. Therefore, the next step in your investigation should be to visit the official Nintendo support page and ensure that all services are up and running.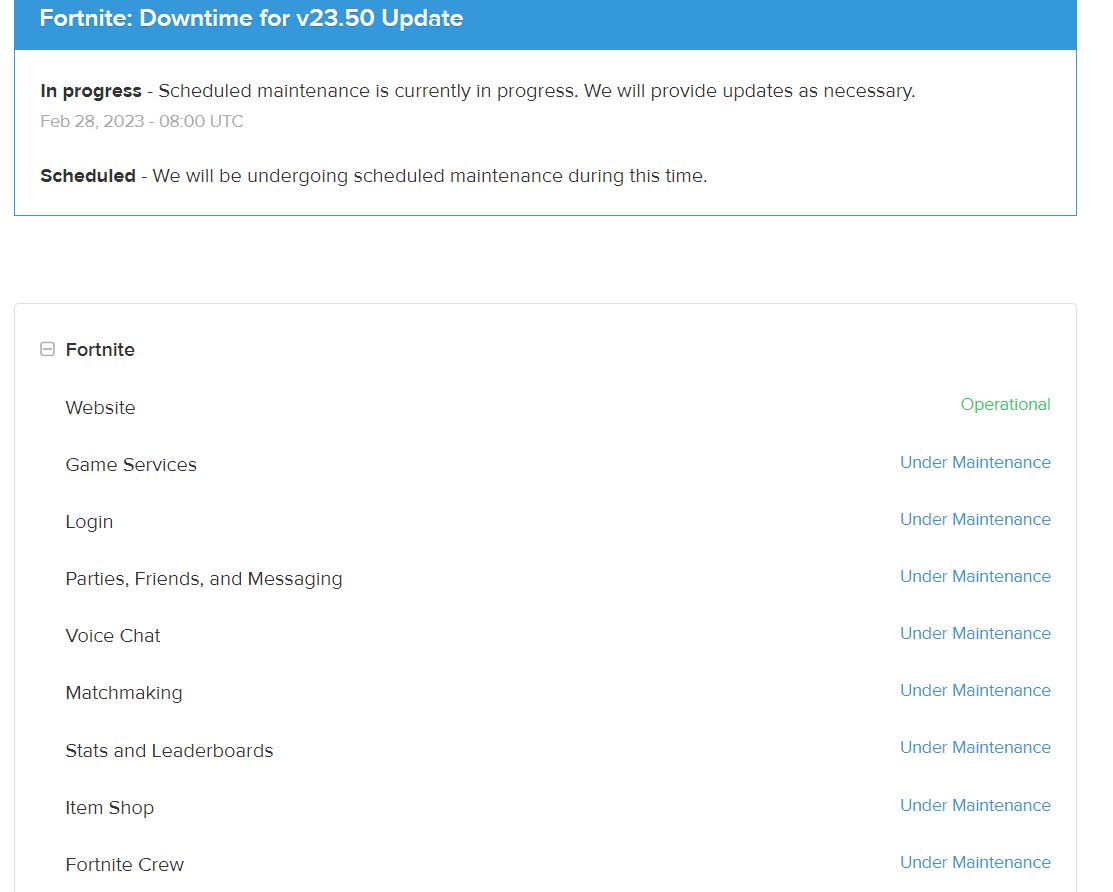 Moreover, you can also check the status of Fortnite servers in every region by accessing the Epic Games website. Just click on the "+" icon next to Fortnite to get access to a detailed status report.
Redownload the Update
Assuming that there are zero issues with your network connection and that the game's servers are functioning at their best, it's time to find out if anything is wrong with the copy of Fortnite that is currently running on your console.
Should the update remain persistently stuck, you can go ahead and dismiss the progress and perform a re-download. This particular maneuver will only prove useful if the update had gotten stuck unexpectedly owing to system software glitches on your console.
After highlighting Fortnite's icon on your Home Screen, tap the + button on your controller and choose 'Software Update'.
If the download has not yet been initiated, choose 'Via the Internet' option.
However, to dismiss your current download progress, you will need to head inside the Update Status box and under Download Options, choose 'Cancel Download'.
Select OK to verify your selection.
After the download has been canceled, go ahead and reboot your console. Pressing and holding the power button for 3 seconds will bring up the 'Power Options' under which you should select 'Restart'.
Reinstall Fortnite
In case you have tried everything mentioned above and Fortnite's update is still stuck, you can try reinstalling the game (but only as a last resort). It is likely that this update issue is rooted in a software bug, and the best course of action, in that case, would be to entirely reinstall the game. Follow these steps to uninstall Fortnite on Nintendo Switch.
Press the + button on Fortnite's tile and select 'Data Management'.
Choose 'Delete Software' first then 'Delete'.
The game will now be uninstalled from your system so you will have to re-download the game from Nintendo Store after restarting. Let us know in the comments what worked for you.
Leave a comment